Japchae: A quick and easy side dish
---
Hey, everyone! This week, I really wanted to share a dish that is perfect for the summer. When it starts to get warm out, I find myself making all sorts of picnic foods to enjoy outside. I live right near Ridley Creek State Park, and whenever I have a free moment, I like to go for hikes and a quick picnic. The dishes I usually gravitate towards are ones that are especially tasty at room temperature. I like to have many options while eating, but, when I'm hiking, it isn't always practical to bring loads of side dishes. One thing that I really like to do is make a dish that has many ingredients and can tide me over until I get back home. Stir-fries or ploughman's lunches are always a great choice for outdoor eating. One recipe in particular that I really enjoy is called Japchae.
Japchae is a side dish from South Korea that is made up of sweet potato noodles, beef, a variety of mushrooms, and other vegetables. Especially during this time of year, when vegetables are flavorful and fresh, this dish really highlights each ingredient. I first came across this dish when I met my wife, Minju. I was amazed at how each flavor was preserved and the cooking procedure that went along with this. There is a very specific way to make Japchae, and each ingredient must be cooked separately according to its color and how long it takes to cook. This procedural cooking process, in my opinion, makes each flavor truly independent but in harmony with the others. Oftentimes, the flavor of a vegetable gets lost in the cooking process, but this does not seem to be the case with properly made Japchae.
The best Japchae I have ever had was at my wife's family's house in Seoul, South Korea. I was lucky enough to make a trip last August and experienced such an amazing and beautiful culture in person. I was amazed at how much care my jangmonim (mother-in-law) put into her cooking and how incredible her ingredients were. She served an enormous mixing bowl's worth of Japchae that night, and it was accompanied by numerous side dishes and my jangin eoreun's (father-in-law's) homemade grape wine. I hope that you enjoy this recipe and that it shows just how versatile a handful of vegetables can really be!
Ingredients:
• 1 pound top round beef, sliced
• 1 tablespoon garlic, minced
• ¼ cup and 2 tablespoons soy sauce
• 1 tablespoon mirin
• 2 tablespoons sugar
• 1 large onion, julienne
• 1 cup oyster mushrooms, torn
• 1 cup fresh or rehydrated shiitake mushrooms, baton
• 2 tablespoons toasted sesame seed oil
• 350 grams dry sweet potato noodles
• 3 cups baby spinach
• 1 large carrot, julienne
• 1 red bell pepper, julienne
• 1 jalapeño pepper, ¼ moons
• Grapeseed oil or favorite high-heat cooking oil, as needed
Procedure:
• Slice beef thinly and marinate first six ingredients for up to 24 hours. (Use only ½ the sugar and ¼ cup soy sauce for marinade.)
• Prepare vegetables and arrange so that they are separated and easily accessible.
• Set up a 12-inch sauté pan, a large mixing bowl, and a pot of boiling, salted water.
• Soak sweet potato noodles in cold water for 20 minutes.
• Blanch spinach, only so that it wilts and turns a vibrant, green color (15-30 seconds).
• Squeeze the liquid out of the spinach so that the color doesn't run.
• At medium-high heat, cook beef, onions, garlic, and marinade in sauté pan.
• Once beef is cooked throughout, remove from pan.
• Remove remaining ingredients and sauce from pan once onions are tender.
• Add mushrooms to pan, along with enough oil to stir fry.
• Once mushrooms are cooked and pan is deglazed, remove from pan.
• Add carrots to pan with more oil, if needed.
• Remove carrots from pan once tender.
• Add red pepper to pan with more oil, if needed.
• After sweating the pepper, add the jalapeño, and cook until both are tender yet slightly crunchy.
• Combine ingredients in a large mixing bowl and hold.
• Transfer noodles to boiling water, and cook until tender but chewy.
• Rinse the noodles in cold water and drain.
• Add the noodles to the mixing bowl, and cut in half with scissors, if necessary.
• Add remaining sugar, toasted sesame seed oil, and soy sauce.
• With gloved hands, mix the sweet potato noodle stir-fry until combined.
• Serve immediately, or refrigerate and reheat.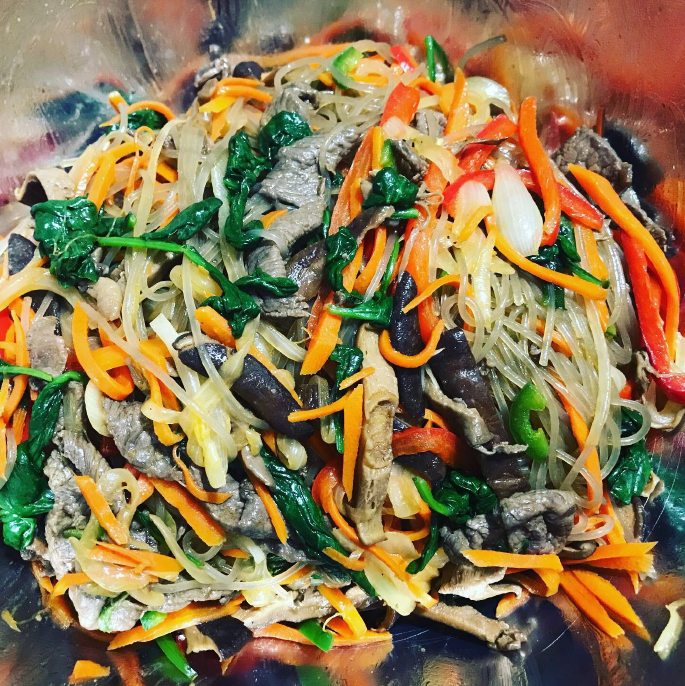 Some important things to note for Japchae are that the vegetables should still be slightly crunchy. As with any stir-fry, you do not want mushy, overcooked vegetables. The contrast in textures and flavors in this dish is very satisfying and is partially what makes it so great. Another tip for good Japchae is not to overcook the beef, as it will get very chewy. Finally, good temperature control in your sauté pan is essential to the outcome of this dish. You do not want to brown or add color to the vegetables. This dish is meant to be vibrant and bursting with fresh, defined colors.
This stir-fry goes really well with most foods and can also be a great side dish. In Korea, it is customary to use the wood ear and shiitake mushrooms for this dish. Wood ear mushrooms are thin and wavy black mushrooms that have a distinct but mild flavor. You can buy them dried at most Asian supermarkets. Because of the fact that it is less accessible and more expensive than other mushroom types, I like to use torn oyster mushrooms instead of the wood ear. This recipe can easily be doubled or adjusted for how many people are eating, so I hope that you enjoy it on your own or try making it for a potluck!
-Steven Walsh, Walnut Hill College Student Leader
---