Hello, everyone! This week, I wanted to share a really refreshing, summer treat. This past summer, I was lucky enough to get the opportunity to travel to South Korea. The reason for the trip was to meet my wife's family, which was an absolutely amazing experience. While there, I was introduced to so many different kinds of foods I had never seen before. From fishcakes to mulhwae, I was having all of these delicious things one after another. One of the biggest surprises for me, however, was the heat that everyone had to endure during the summer! This didn't seem to faze anyone except for me, and to be honest, I struggled a little at first to cope with it. It seemed as though everyone had their own way of dealing with the heat, and at first, I had no idea where to look for something that would cool me off. It wasn't until the third night that I was in Seoul that my wife suggested to me that we try Bingsu. At first, of course, I had absolutely no idea what this was. She explained to me that this was a really popular snack or treat in Korea that is perfect for a scorching summer's day. Bingsu comes in many different forms and flavors, but simply, it is a base liquid or fruit that has been blended and frozen to form a soft, frozen ice. This is then topped with all sorts of goodies such as sweet red bean, sweet rice cakes, matcha green tea powder, and many others!
That night, we went out to a cafe with one of my wife's friends, and while they caught up, I got to know Bingsu a little better. Finally, something that will cool me down! I couldn't get over the fact that such a simple dish could be so flavorful and refreshing at the same time. My wife and I ordered the Injeolmi Bingsu, which was a sweet milk ice topped with sweet rice cake, honey, toasted almonds, and dried bean powder. I really mean this when I say it, I was in culinary Nirvana for the duration of that visit. There was something so incredibly satisfying about the cooling sensation of the milk ice paired with the chewy and sweet rice cakes. The combination was divine and from that point on, I heavily sought out Bingsu. For the rest of my trip there it was, my cooling agent, and I was able to try so many other variations as well. One of my other favorites from that trip was a classic treat called Patbingsu. This variation of the ice was topped with sweet red bean and matcha green tea powder, which was all it really needed. Needless to say, I was a happy man and wanted to continue my relationship with Bingsu back home!
This past May, my wife and I decided that it was time we tried our hand at Bingsu. Even though we didn't have any sort of ice cream maker or sorbet maker, we wanted to have Bingsu again. After sitting down and brainstorming for a while, we decided to try something new. The result of this turned out better than we had expected, and we decided to keep our original recipe the same. Instead of using milk primarily for the ice, we thought it would be fun to try using fruit that had a very high water and sugar content. Melons were the first thing that came to mind, and we settled on using watermelon and honeydew. This, we thought, would pair nicely with some sort of creamy element, but we didn't want the complementary flavor to be overpowering, so we went with a mixture of coconut milk and whole milk. We both love sweetened condensed milk, so we decided that this would play the role of the sweetener as well as a thickener. We were thrilled with the way this turned out, and it was amazing how easy it was to make. All you needed was time and a little patience! Below is our recipe for a simple, homemade Melon Bingsu!
Ingredients:
1 watermelon
1 honeydew
10 oz. can sweetened condensed milk
13.5 oz. can coconut milk
1 cup whole milk
2 tablespoons lemon juice
Procedure:
Halve the melons, remove the seeds from the honeydew, and discard.
Reserve two melon halves for melon balls.
Remove the flesh of the melons and place in a blender.
Melon ball other melons and scrape the remaining flesh into the blender with other melon.
Reserve melon balls for later as garnish. Freeze for 2 hours.
Add lemon juice and 1 ounce of sweetened condensed milk.
Pulse mixture until combined. Do not over blend.
Place mixture in a metal bowl and freeze, checking every hour.
In a metal bowl, add milk, coconut milk, and 8 ounces of sweetened condensed milk.
Whisk until combined and place in freezer, checking every hour.
Once mixtures are mostly frozen, mash or mix with a metal spoon or potato masher.*
Continue this process until the texture is a thick slush.
In parfait glasses or cups, alternately layer coconut cream ice and melon ice.
Top the ices with frozen melon balls, and drizzle remaining sweetened condensed milk on top.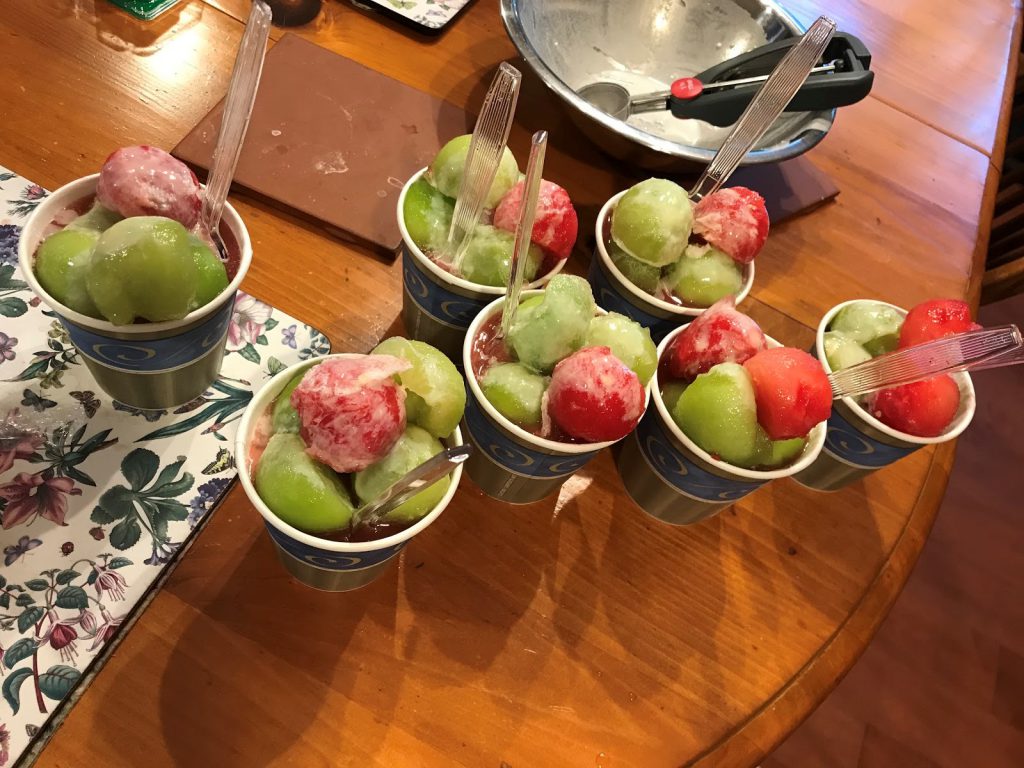 This type of Bingsu is referred to as Gwhayil Bingsu, or fruit Bingsu. It is an incredibly refreshing dessert that takes very little effort to make. I found that using a potato masher works really well when making the slush. The consistency of the slush should be solid enough so that it can be scooped but soft enough to eat with a spoon. The amount of sweetened condensed milk used can also be changed depending on how sweet the melons are and how sweet you prefer your treats! I'm sure that this recipe can be altered to use different fruits, and I look forward to doing my own experimentation this summer. I hope that you enjoy this recipe and that it cools you off during this upcoming summer heat!
-Steven Walsh, Walnut Hill College Student Leader
---