Hey, everyone! It's rhubarb season! I always get excited around this time of year because I can buy or harvest fresh rhubarb for jams, preserves, pies, and more! If you've never had it before, it has a very distinct flavor. Raw, the smell can be likened to that of a tart, unripe pear. However, its flavor is one of a kind and is sour, savory, and slightly sweet! It is almost always cooked and can also be compressed in a vacuum sealer for a nice dessert addition. One of my favorite things to do with rhubarb is make strawberry rhubarb pie. The seasons for both of these plants overlap, which results in a naturally sweet and incredibly flavorful pie. One of the best things about rhubarb is that it does not need a lot of doctoring to taste good. With just enough seasoning, rhubarb becomes an incredibly complex element in any dish.
My memories of rhubarb start with stories from my father's childhood. My father grew up in the north of England, and there, it was customary to see rhubarb in family gardens, growing in a thick bunch of stalks. One of the most memorable rhubarb dishes he remembers having as a child was rhubarb pie. Pastry, sugar, butter, and rhubarb are essentially what comprised this dish, and apparently the flavor was something to behold. When my dad moved to Philadelphia for work, he sought it out but realized there was little to no interest in rhubarb here. It was essentially inaccessible, and for a long time, he just went without it. As classic and once thought of as "out-of-fashion" fruits and vegetables began to come back into popularity, items such as rhubarb and previously ignored vegetables became more accessible and even more desired in mainstream eateries and grocery stores. Growing up, my family had access to rhubarb, but no one had the time or patience to make rhubarb pie. We always ate the store-bought strawberry rhubarb pies, but to me, they were incredible nonetheless. The sweet, savory, and tangy notes of the rhubarb paired so nicely with the sweet strawberry and crumbly crust. It was a rarity for that pie to last even a couple of days in the Walsh household.
After spending some time in culinary school, I've learned to have the patience and carve out the time to make a homemade pie. Nothing fills your house quite like the smell of homemade pastry and baked fruit. This is also a great way to use up harvested fruit that isn't pretty enough for the table or is maybe a little underripe. Below is my very simple recipe for strawberry rhubarb pie, and it is open for adaptation.
Ingredients:
1 ½ cups all-purpose flour
4 oz. cold, unsalted butter
7-10 tablespoons ice water
Pinch salt
2 ½ cups fresh strawberries, halved
2 ½ cups fresh rhubarb, large chop
3 tablespoons lemon juice
1 cup sugar
2 ½ tablespoons tapioca starch
2 tablespoons butter for dotting pie
Procedure:
Cut butter into cubes, and refrigerate until hard and cold.
Place a few ice cubes in 2 cups of water.
Once cold, pinch butter into flour and salt in a mixing bowl.
Use the tips of your fingers to avoid adding excess heat.
Once butter is pea-sized and flour is somewhat mealy, stop pinching.
One tablespoon at a time, add the ice water. *Humidity and temperature are important factors to consider before adding all of the water at once. I tend to add 7 tablespoons of water when it's warm and 9-10 when it's cold out.
Do not overmix dough. Once combined, wrap in plastic and set in the fridge 30 minutes to an hour. *Pie dough can be held in the fridge longer and also frozen.
Set oven to 400 degrees Fahrenheit.
Once chilled, flour a surface for rolling, and cut the pie dough into 2/3 and 1/3 pieces with a bench knife.
Roll the dough to 1/8 of an inch thick.
Lightly butter a 9-inch pie dish, and press the larger rolled out piece of dough to the sides and bottom.
Once tightly fit to the dish, refrigerate for another 20-30 minutes.
Toss strawberries, rhubarb, sugar, tapioca starch, and lemon juice together and place into pie shell.
Roll the rest of the pie dough on top of the pie, cut excess, and secure top to base with water.
Tuck the crust underneath itself once to form a strong seal and flaky edge.
Crimp as you see fit. I usually use the tips of my fingers and pinch every ¼ inch with my thumb between my other thumb and index finger.
If you have a pie collar, use it. If not, make a collar for your pie out of foil.
Slice a small "x" into the center of the pie's lid, so that steam can escape.
Egg washing the pie is optional; I usually don't.
Bake pie for 45 minutes or until the crust is golden brown and flaky.
For the final 10 minutes, remove the pie collar or foil.
Allow pie to cool on a rack for at least 1 hour. The longer it cools, the better!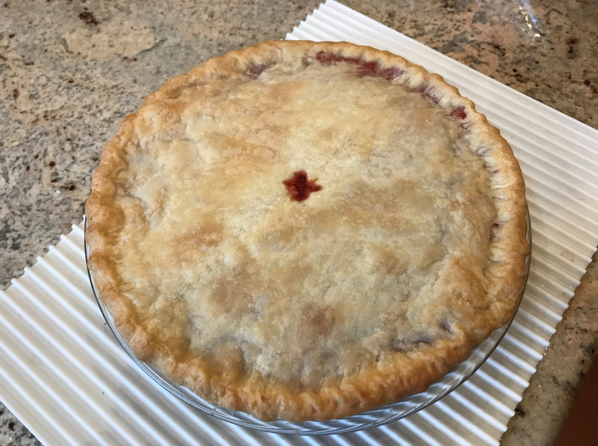 Once you have made this recipe a couple of times, it becomes second nature. When working with rhubarb, it is customary to peel off the outside layer, which comes off easily. Large pieces also help to maintain a filling with body, so that each piece of fruit is identifiable. Last, thoroughly chilling the ingredients for your dough, working efficiently, and getting the ingredients ready before you start will lead to a beautiful and flaky pie crust. One of the best things about this pie is that there are only a few ingredients and the flavors of the fruit are the highlight of the dish. For another interesting way to use rhubarb, it can be peeled, compressed in a vacuum sealer, and circulated in a hot water bath with various types of vinegars, sugars, herbs, and spices! Below is a quick compressed rhubarb recipe that livens up any plate!
Ingredients:
1 cup rhubarb, 2-inch pieces, peeled
1 tablespoon champagne vinegar
½ teaspoon picked thyme
1 tablespoon sugar
Procedure:
Place ingredients in a vacuum seal bag.
Seal and remove any air within.
Circulate in a water bath at 140 degrees Fahrenheit for 45 minutes.
Remove contents from bag and enjoy.
I hope that these recipes come in handy, and they can also be changed in a number of ways. I always have a lot of fun making pie, and it's always a crowd pleaser. I urge anyone reading this to experiment and play around with rhubarb while it's in season. It has such a wonderful flavor profile and really rounds out overly sweet and extremely rich foods. Try adding it to the next batch of jam you make, or maybe add it to a really meaty stew for a refreshing tang. The possibilities with rhubarb are limitless, and I hope this has shed some light on an amazing plant!
-Steven Walsh, Walnut Hill College Student Leader
---