The start of the New Year means a fresh start on Walnut Hill College's University City campus. Students hone their focus for final exams, our graduating associate students embark on a week-long food and hospitality tour of either France or Florida and the Bahamas, and the next crop of talented individuals prepares to join the WHC family in February. After a much-needed holiday, our students have returned to the kitchens with a renewed sense of purpose and creativity, resulting in delicious new dishes for our four restaurants. Our current menu for the International Bistro comes courtesy of seven graduating bachelor students, who have developed a selection of appetizers, entrées, desserts, and cocktails from around the world as part of their capstone project. Starting this week, they're excited to present their menu to the public.
The diverse menu takes diners on a culinary journey, starting with the appetizers. The Kibbeh Nayeh, a beef tartare dish, offers a complex balance of flavors and textures, from the smokiness of the tahini to the delicate umami of the beef tartare to the bright sharpness of the cumin vinaigrette. On the lighter side of the flavor spectrum, the Shrimp Dumpling Soup invites spring with flavors of lemongrass and ginger, which are grounded by an earthy cardamom broth. On the finish, there is an explosion of flavor as preserved lime and pomegranate come together.
This delicious sensory experience continues with the entrées, which include the Borrego de Coco with its braised lamb, plantain gnocchi, and crispy okra. The rich, bold flavors of the braised lamb are complemented by the pillowy sweetness of the plantain gnocchi. And speaking of sweetness, the desserts on the menu truly stand out, especially with the vegan Chocolate and Coffee Panna Cotta. A rich, velvety, panna cotta is lightened by a luscious dulce de leche. Toasted coconut introduces a subtle warmth and crispness that perfectly marries the elements together. Overall, the menu includes five offerings each for appetizers, entrées, desserts, and cocktails, all of which are available now through Saturday, February 3.
Our bachelor students have worked very hard to bring their menu concept to fruition, and we hope you will join us for dinner to experience it firsthand! To see the full menu and make your reservation for this limited-time engagement, please visit us on OpenTable or call (267) 295-2302.
International Bistro
Salmon Croquette
Al Pastor Tacos
Spring Rolls
Asparagus Salad
Tom Yum
Chimichurri Skirt Steak
Peri-Peri Chicken
Pesto Fettuccine
Lemon Garlic Trout
Crème Brûlée and Macarons
Pavlova
Latin Trio
Sweet Sushi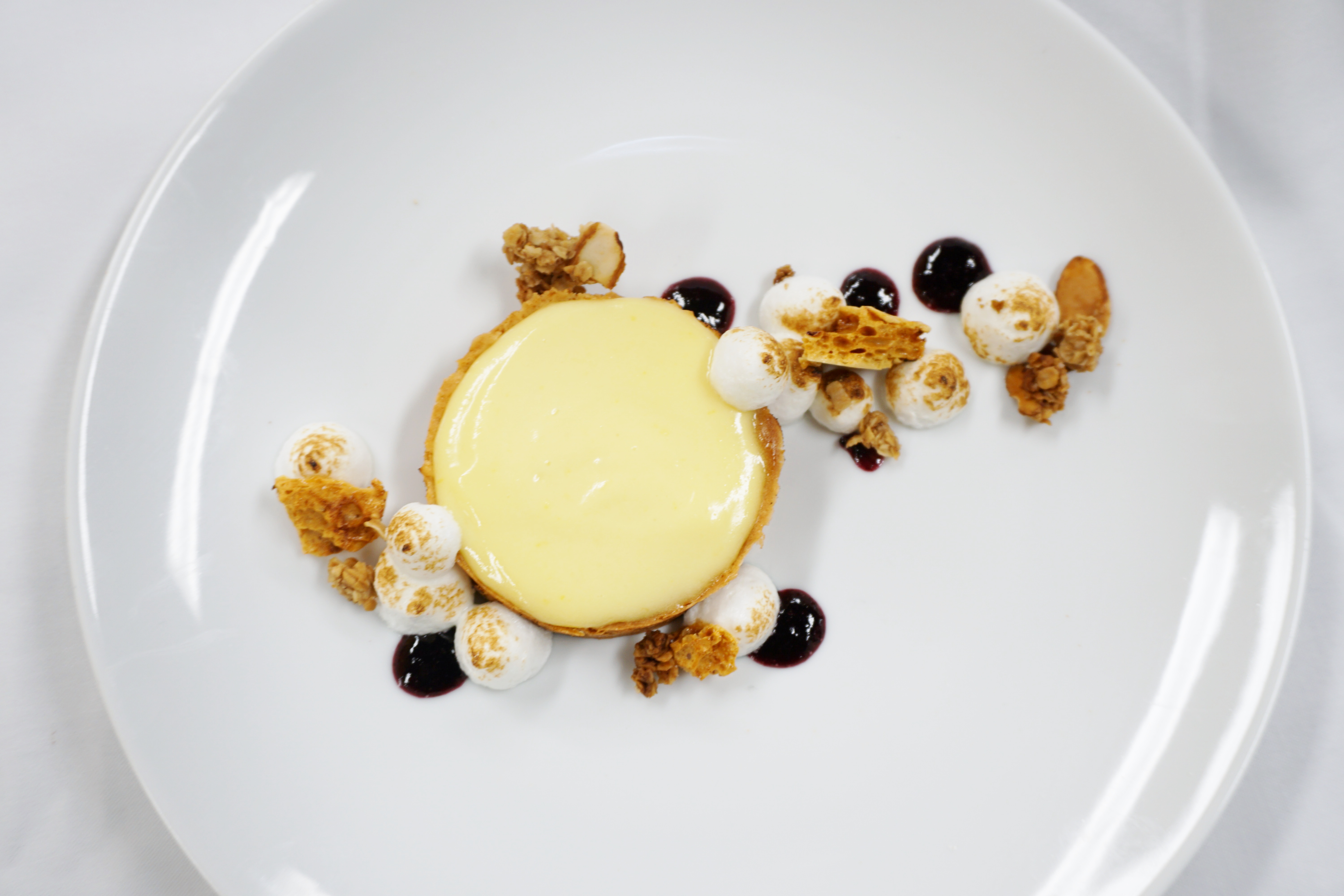 Lemon Meringue Pie
Blackberry Smash
Rum Punch
Cucumber Cooler
Strawberry Passion Fruit Margarita
2018
Inside the International Bistro
Allison Bar at the International Bistro
Inside the International Bistro
Inside the International Bistro
---