We are tremendously proud of our Freshmen and their hard work – and we know their family and friends share in that pride, too!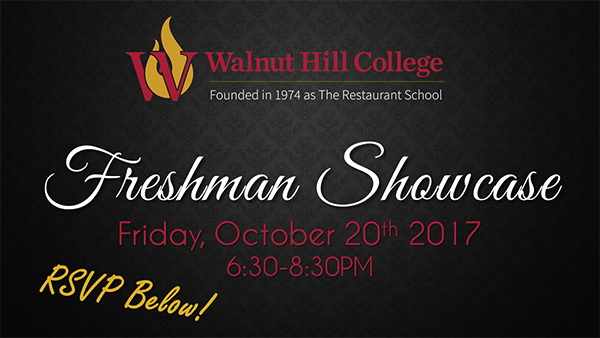 On the evening of Friday, October 20, 2017, Walnut Hill College will open exclusively to the family and friends of our freshman students. This is a wonderful opportunity for you to tour the campus, meet with the faculty and staff, and enjoy some light refreshments – all while watching
your
 freshman student in action!
Please Note: This event is invite-only and is open exclusively to the family and friends of our current freshman students. Our student-run restaurants and Pastry Shop will be closed to the public on the evening of Freshman Showcase but will re-open for normal business hours on Saturday, October 21.
EVENT FAQs
When is Freshman Showcase?
Freshman Showcase is scheduled for Friday, October 20 from 6:30 p.m. to 8:30 p.m.
Where do I go to begin my Freshman Showcase experience?
You will start at the Center for Hospitality Studies, located at 4100 Walnut Street, for some wine and cheese tastings and live chef demonstrations before heading up to Allison Mansion to tour the building.
Where can I park?
Parking will be available on a first come, first served basis in the Allison Mansion main parking lot. Parking is extremely limited and we ask that only guests with special needs utilize the on-site parking option. Street parking and garage parking may be found in the area. The closest parking garage is located at 40th and Walnut Street at the Fresh Grocer. Please note: The College is unable to validate any parking.
Where can I FIND MY STUDENT?
When you check in for the event, a staff representative will tell you which room your student is assigned to for the evening.
Will there be dinner served?
Guests of Freshman Showcase are welcome to sample light refreshments and drink items while enjoying a self-guided tour of our facilities.
Are the College buildings wheelchair accessible?
The Center for Hospitality Studies is wheelchair accessible and all its classrooms are located on the first floor. The first floor of Allison Mansion is wheelchair accessible via a ramp leading to the European Courtyard from the main parking lot; however, the second floor is accessible only by stairs.
Will the Pastry Shop and College Store be open during Freshman Showcase?
Yes, the Pastry Shop and College Store will be open and will have items available for purchase for the duration of the event.